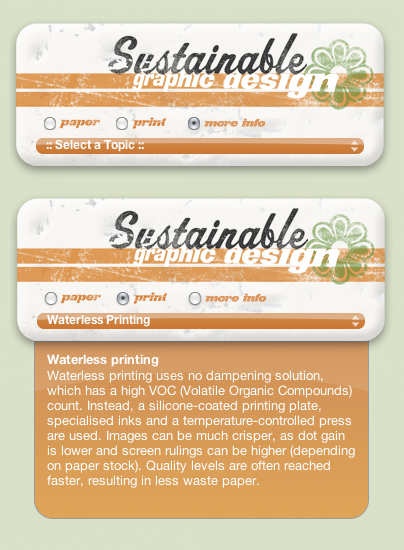 The main goal of my Masters research was to provide easy access for graphic designers to information on sustainable graphic design.

My research showed that Apple Macintosh is by far the preferred platform for the Australian graphic designers needing to access this information. In response, I designed a small, stand-alone piece of scripted software, called a "dashboard widget" as an informative tool. 
Containing information on print processes, paper issues, and some definitions, ideas and links to other resources, the widget will run with or without an internet connection.

The sustainable graphic design widget is now active. It has been downloaded 500 times, and featured on design blogs & sites around the world. I have had many lovely emails and comments, keep them coming!
The widget has been granted the Softpedia 100% clean software award, and can be downloaded for free from the apple website. 
Suitable for MAC 10.4 and up.